There's a lot of sense to this advice, found at
Paul Dorn's bike commuter blog
. (I've switched left & right to make sense to Kiwis.)
"...be assertive. Take the lane! Traffic law doesn't require a cyclist to pull over every time a car approaches from the rear. You only have to be as far to the left as you consider necessary to safely operate your bike. If there's road debris, broken pavement, another cyclist or anything in the extreme left that makes you uncomfortable, move to the right. You have the right to the entire lane! Take it. You're far safer having the cars behind you than crowding you while they pass. Give yourself a cushion. Define your space. Don't be timid. Assert your rights."
This sure makes sense at roundabouts, when a bike is going as fast as everyone else, but in other circumstances I'm not sure I'd be that brave. I prefer parks and quiet streets, whenever I get a choice. Being hit by a car can really ruin your day.
---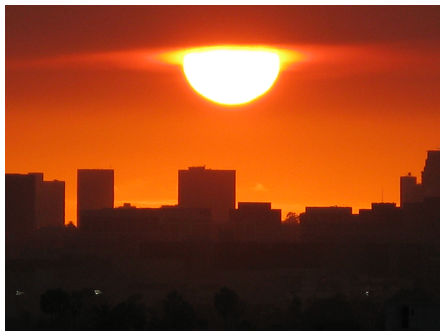 Oh no, it's Nibiru!
An amazing shot, linked from the wonderful
MetVUW
site. This is a sunset over Los Angeles;
This image was one of a series of images taken 6 November 2009 from the roof top adjacent to Television Studios behind Santa Monica (Los Angeles) overlooking the Pacific end of Sunset Blvd. There was a sequence of images taken showing the sun descending below a curtain of low altitude cirrus type cloud. It was taken with a Canon G9 at 6x zoom.
I shall doubtless never again capture a sunset moment quite like this effect of a suspended globe....', Blair Anderson.'