The Waipu Cove/Langs Beach area is a lovely spot, with golden sands, little bays, and a view of the Hen and Chickens islands sweeping round to Whangarei Heads. Property values reflect this, of course; I saw an 800 sq.m section offered for $540,000. The wedding takes place on Langs Beach itself, at 3.30 this afternoon, so we have the morning to relax and explore. Or lie around reading...
Good news last night of the
Government rent subsidy package
for those whose insurance money has run out. The trouble is that we won't reach that point until September, and what rentals will be left by then? Telling us they'll subsidise rent by $275 for a couple is fine, but imagine what landlords will be charging by then - if houses are available at all.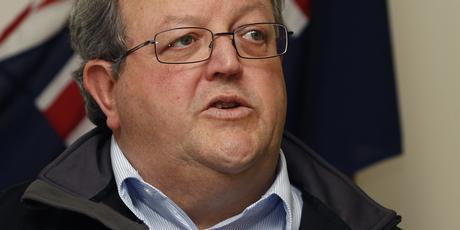 I note that the spin doctors had
Gerry Brownlee presented as a regular bloke
, minus tie and suit coat and dressed in a Bob Parker Action Man jacket, to present this. With the flag as a backdrop of course. After his blustering blunders on Campbell Live earlier this week, he needs all the image help he can get.
I didn't see any mention of a time limit; earlier this week he hinted that such a scheme may run for a year, but hopefully that's been dropped; we could be two years or more, given the rate the bureaucrats are moving on plans for land remediation.
"The financial assistance programme will initially run for two years until 17 February 2013 and will be reviewed before then."